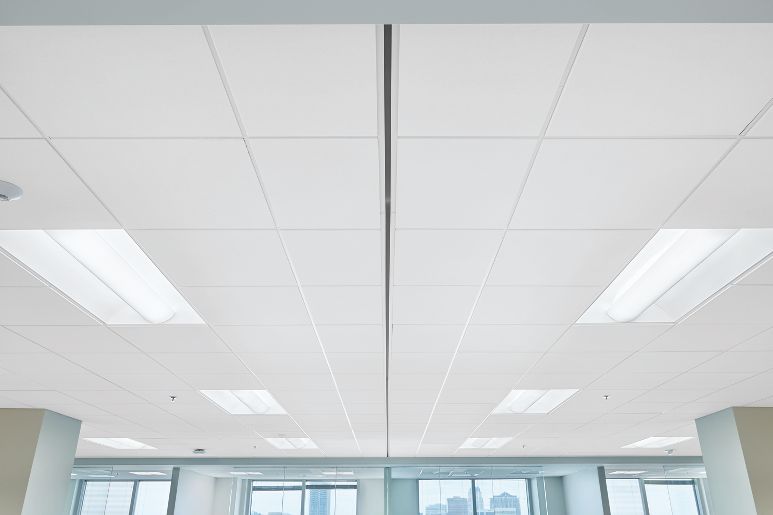 Continental is pleased to provide Armstrong Ceiling Tile and Suspension Systems on our GSA Contract No. 47QSWA19D009U. This contract incorporates nearly all commercial products offered by Armstrong.
Tectum Ceiling Tiles and Wall Panels now available through Armstrong.
*In addition to Armstrong Ceilings, we offer open market pricing on Armstrong Flooring as well as crossover capabilities to other major manufacturers depending on your project specifications. To learn more, please contact us or complete our Quote Request Form. Click here to learn more about Armstrong Ceiling Tile.
Providing durable and sustainable solutions, Tectum ceiling tiles and wall panels are ideal for areas where there is a need for high acoustical solutions. Easy to install and unlimited design options to choose from. Coordinate or complement your color palette with the sizes, shapes, and forms to make your designs.
Tectum Direct-Attach Ceilings
Direct attach ceilings are durable for heavy use interiors and supply excellent noise absorption. Meet your design standards with a variety of colors to match your facility. Direct attach can be fastened to a variety of surfaces including masonry, drywall and wood.
1″ panels meet the most stringent sustainable standards today
Application specialty: exposed structures
Retrofit solution for noise reduction
Mechanically fastened
Tectum Lay-In Panels
Lay-In Panels are durable for heavy use interiors and meet sustainability standards today. These panels are able to be field painted over up to 6 times without impacting their performance. They are impact and scratch resistant with a variety of color and size options.
Application Specialty: data centers or computer rooms
Washable
---
Ceiling Systems for Specific Requirements
You'll find great features in Armstrong Ceilings like:
Acoustical Attributes
Designer Options
Metal & Wood Ceilings
Clean Room
Light Reflectance
Moisture Resistant
Fire Resistant
Scrubbable/Washable
Environmentally Friendly

Custom Printed Ceiling Panels
Armstrong Ceilings offer a designer visual with Create! ceiling tiles. 24″ x 24″ ceiling panels offer high NRC sound absorbing, water and mold resistant properties. Mix and match a selection of Ultima, Ultima Health Zone and Optima ceilings. Create! ceilings offer great solutions to your Call, Don't Fall VAMC programs, designer visuals, areas with visual reminders and more.
Sustainable Ceiling Solutions
Armstrong can help you meet Environmental Standards
Ceiling tile made with up to 78% recycled content is available
Recycle/reclaim your ceiling tile during your facility renovation
For more information on Armstrong's Environmental Program click here
---
Learn more about the ceiling systems in your facility with an onsite audit.

For qualified government agencies, Armstrong and Continental Flooring Company are happy to offer an onsite audit to assist in standardizing inventory and to offer up-to-date solutions to handle acoustics and other specialty requirements. To learn more, please click here or contact us at (877) 215- 7265.
---