Healthcare Flooring – What You Need to Know about Flooring Your Hospital
The healthcare industry offers a unique set of challenges in the flooring world. With numerous areas to accommodate within each facility, it's important to know all you can about your hospital flooring options. You will need to consider a number of factors when choosing healthcare flooring: what areas in the hospital need flooring, what type of flooring is best suited for that area, longevity of a product, durability, and what is required comfort-wise underfoot,  Aesthetics, point load and rolling load requirements, cleanability and cost are also critical components in your hospital flooring choice. It's important to take everything into account to make the right decision.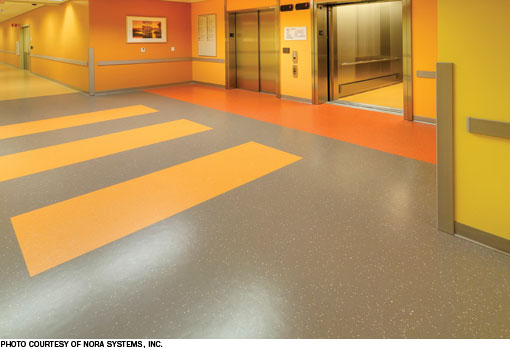 The first place your patients and their families will experience is the entrance to your hospital. Therefore, you will want to accommodate not only high foot traffic issues but rolling load traffic considerations as well. These entrance area corridors and public spaces will have the most traffic.  These areas will need a high level of cleanability as well as durability. The hospital flooring product for these sections should be non-slip to avoid any injuries to patients or staff and should be water and stain resistant and offer a high level of durability. A good choice here would be luxury vinyl tile (LVT), vinyl composition tile (VCT), sheet vinyl, rubber, or linoleum.   
Types of Flooring for Hospital Entrance Areas:
Luxury Vinyl Tile: This resilient product is low maintenance and is built to last. LVT is one of the most popular products in flooring today. It's easy to install, incredibly durable, essentially waterproof, and excellent in high traffic areas. In addition, commercial LVT uses a photographic print process on the tile which allows for almost endless design possibilities.
Sheet Vinyl: This product generally comes in 4, 5, and 6-foot wide rolls and 2-3 millimeter in thickness.  This allows for a minimal number of seams and this can be a key factor where aesthetics are a concern. Sheet vinyl flooring has been A mainstay in hospital flooring for decades. Sheet vinyl can be flash coved, which will create a monolithic, seamless floor that is easy to clean and maintain. This surface is also excellent for repelling microorganisms on their surfaces.  
Vinyl Composition Tile (VCT): VCT is always an economical option. These tiles are a mixture of natural limestone, fillers, color pigments and a thermoplastic binder. Though the tile is extremely durable, VCT is higher maintenance (stripping, waxing, polishing) than other vinyl floors and the life cycle costs should also be calculated and considered.  
Rubber: Premium rubber flooring has become very popular in hospital settings. Rubber elevates interiors with seamless installation, unparalleled durability and versatile design possibilities. The dense surface structure of rubber delivers proven strength under pressure, standing up to even the toughest hospital conditions without sacrificing style.
Linoleum: Though not as prominent as it was in the past, linoleum is still high on the list for hospital choices.  Like rubber, linoleum is a green product made with natural material including linseed oil, cork dust and jute fiber. This product often stands with rubber to those buyers with environmental sensibilities. Linoleum also has reputable antimicrobial properties to protect against germs.
Types of Flooring for Hospital Procedure Rooms
As for procedure rooms, the trend is toward welded sheet rubber with "Dri Fit" tape or two-part urethane epoxy. (Dri Fit is a double-sided adhesive tape used for its strength and durability.) It's also worth mentioning, the advent of new acrylic spray adhesive that manufactures are touting for under patient beds and operating rooms. Both options allow for quick turnaround times with installation which is a plus for any hospital. Rubber flooring withstands the movement of heavy hospital beds, x-ray machines, gurneys, and other equipment.
For comfort underfoot, rubber or linoleum are usually the front runners.  They are softer and more cushioned than sheet vinyl or VCT and may be effective for helping doctors and nurses who are on their feet all day.
Types of Flooring for Hospital Patient Rooms
Research has suggested that patients like a "warmer" look and feel while staying in the hospital. The trend in hospital patient room flooring is to make the accommodations more home-like and less institutional which is said to help speed the healing process and reduces a patient's stress during their stay. Since patient rooms don't have the same requirements as other hospital areas, you will have additional options for a more aesthetically pleasing look. LVT, sheet vinyl or linoleum are the best options here as they allow for extended design opportunities, easy maintenance, as well as quick turn-around times on installation.
Hospital Flooring Tools:
Despite the trends, it's always difficult to choose the right flooring for a hospital. Weigh the factors and products and contact your Continental Flooring representative to help you through the process.  In addition, reference the information below to help with your selection.
LEED for Healthcare — LEED, or Leadership in Energy and Environmental Design, is a green certification program for building design, construction, operations and maintenance. The flooring rating system developed by the U.S. Green Building Council (USGBC) takes evidence-based design and indoor air quality into account.
Green Guide for Healthcare (GGHC) — This is a best-practices guide for healthy and sustainable design, construction and operations for healthcare facilities.
FloorScore — This is a rating system developed by the Resilient Floor Covering Institute (RFCI) in conjunction with Scientific Certification Systems (SCS) that evaluates flooring for VOC emission levels and compliance with other rating systems. Hundreds of resilient hard surface flooring materials and their adhesives bear the FloorScore® seal. 
ecoScorecard — This is a composite tool showing flooring products that comply with the most popular rating systems.
Continental Flooring can offer hospital flooring materials only or complete installation services.  
Please feel free to contact us for product advice, free samples, assistance in specifications, or to place an order. We welcome contract purchases, formal bids, RFQs or Open Market requirements. One call will do it all!
Contact Us Today!
Call Toll Free 800-825-1221 | Request a Quote
 Email: info@continentalflooring.com
Shopping Online? Click Here For Material Only Orders
Continental Flooring has been servicing government agencies since 1979, and continues to be a top flooring and ceiling provider in the public sector.
Our Segments